Thomas Shock, DPM, FACFAS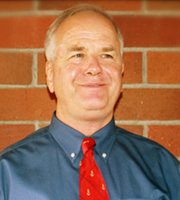 Dr. Thomas Shock has been practicing podiatry in Lodi and Jackson since September, 1984. He attended University of the Pacific, University of California Riverside and California College of Podiatric Medicine in San Francisco. He is an advocate of continuing education and is a Board Certified Podiatrist. He also is a State of California Qualified Medical Examiner specializing in the foot and ankle. Dr. Shock is a Fellow of the American College of Foot and Ankle Surgeon and is a Diplomate of the American Board of Podiatric Surgery.
As an active community member, Dr. Shock has been an active Rotarian for 25 years, and served one year as President of his chapter. He also serves on many committees and volunteers for local fundraisers has been an important part of his life.
Many leisure hours have been spent coaching and cheering for his three children's sports teams and now that they are all out on their own, Dr. Shock and his wife, Nancy, can enjoy their new favorite adventures in traveling. When he is not working or traveling, Dr. Shock can be found on his bicycle or at the gym. He is an avid long distant cyclist and hiker. He loves his Chicago Cubs as much as his beloved bicycle.
The newest and truest loves in his life are hands-down, his grandchildren.